Programmable Time Relay MTR17-TPD-U240-205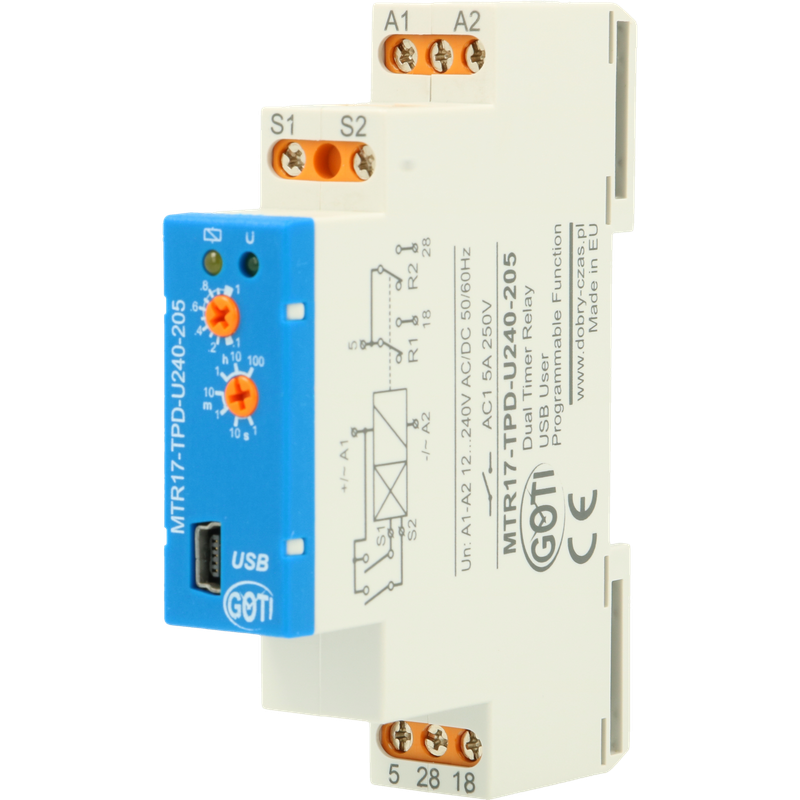 Dual Programmable Time Relay
Two independent user programs
16 independent Time Blocks with 100ms…100h range
Low power consumption – 2.5VA AC, 2W DC
2x 1NO 5A contact arrangement
Programming via USB interface
Installation DIN 35mm
17.5mm width
For industrial applications,
In accordance with PN-EN 61812-1
The programmable timer is designed for industrial applications. Wide range power supply allows to connect the relay to any voltage source in range of 12…240V AC/DC.
It is equipped with 8 independently configurable time blocks, 9 conditional blocks and 18 state change blocks per each relay. The universal software structure provides an easy and quick way to configure the timing and sequencing functions defined by the user, giving the possibility of implementation time functions unavailable in typical time relays.
Loading the program to the relay is performed via USB using PC application. Relay status and time countdown information is indicated by two LED diodes.
Dimensions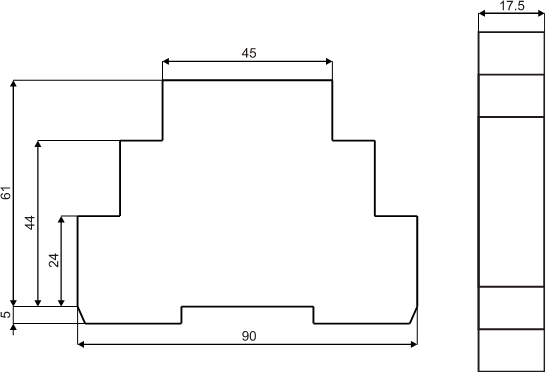 Version
MTR17-TPD-U240-205
Output Circuit

Contact arrangement
2x 1NO
Rated switching current In
AC1 – 5A/250V AC
DC1 – 5A/24V DC
Maximum continuous current
10A
Switching load range AC1
1 250VA
Rated/maximum contact voltage
250/400V AC
Contact resistance
≤ 100mΩ
Maximum switching frequency

600 cycles/h
Input Circuit

Supply voltage Un
12…240V AC/DC
Supply voltage range

0,8…1,1Un (9,6…264V)
Rated consumption
AC: ≤ 2,5VA
DC: ≤ 2W
Rated frequency
47…63Hz
Minimum trigger level S-A2 (sensitivity)
0,7Un
Minimum control S pulse length
AC: ≥ 90ms
DC: ≥ 45ms
S loadable
yes
Rated surge voltage
1 000V

Insulation



Insulation rated voltage
250V AC
Rated surge voltage
4 000V (1,2/50μs)
Overvoltage category
III
Pollution degree

2
Flammability
PCB: V0, housing: HB
Dielectric strength input-output
4 000V AC
Dielectric strength open contact
1 000V AC
Dielectric strength between contacts
–

General Data



Electrical life AC1 at 50% In
≥ 50 000
Mechanical life
≥ 10 000 000
Dimensions (L x W x H)
90 x 17,5 x 66mm
Weight
56g
Ambient temperature
-20°C …. +55°C
Relative humidity
85%
IP rating
IP20
Shock resistance
15g
Vibration resistance
0,35mm (10…55Hz)
Terminals
max 2,5 mm²
Installation
DIN rail 35mm

Time Module



Functions

User programmable
Time ranges

1s, 10s, 1m, 10m, 1h, 10h, 100h
Timing adjustment
smooth 0,1…1,0 x range
Setting accuracy

5%
Repeatability
0,5%
Recovery time
≤ 100ms