The ATS-1000 controller is designed to realize automatic transfer switch functions. Monitors phase L-N voltages of two networks – primary PRI and secondary SEC. Can be configured to operate in 1-phase or 3-phase networks with asymmetry and phase rotation monitoring.
Depending on software settings the following four network configurations are supported: Network-Network, Network-Network-Coupler, Network-Generator and Network-Generator-Coupler.
The ATS-1000 has a built in control of a power generator and provides the automatic start, the suction control and the monitoring of the readiness to take load.
The Digital Inputs can be used for monitoring of contactors or circuit breakers, fire alarm deactivation or external locking.
Built in text display and keyboard allows convenient configuration and current status monitoring without the need of connecting to the PC.
USB interface can be used for configuration, status monitoring and viewing of logged events by dedicated PC application.
MODBUS-RTU interface allows remote monitoring and integration with PC computers or touch panels.
Monitoring of Primary and Secondary networks
Phase to Neutral voltage range 0…280V AC 50/60Hz
1-phase or 3-phase+N configurations
Monitoring of 3-phase Asymmetry and Rotation
Generator and Coupler control
USB and MODBUS-RTU communication
Configuration via panel keyboard or PC application
Text panel display for configuration and monitoring 10,8…30V DC power supply
Compliant with EN 60947-1, EN 60947-6-1
Connections Automatic Transfer Switch Controller ATS-1000.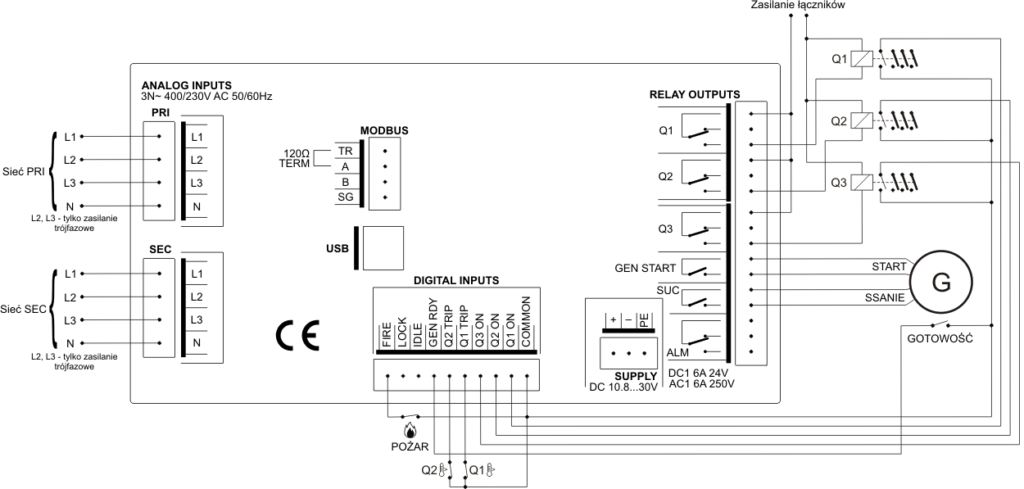 Basic functions:
• Time control of opening and closing Q1, Q2, Q3.
• Q1, Q2 release control.
• Generator configuration – start attempts, start time, break time, suction control, cooling option, readiness to take load control.
• Load drop option.
• Fire lock.
• External or internal LOCK options.
• 6 LED indication.
• Automatic return or no return modes.
• Manual control option.
• Optional password protection.
• Event logging.
• Current status monitoring.
• USB and MODBUS-RTU communication.
• Configuration via PC application.
• Polish and English text display menu.
Dimensions: